Are you seeking an online casino with the best gaming options and the richest entertainment experience? This Grosvenor casino review is sure to leave you wanting more.
Grosvenor is a prominent online casino providing players with exciting entertainment since its establishment in 2007. With its extensive collection of games, appealing promotions, and exceptional customer service, Grosvenor has established itself as a top player in the online gambling industry.
The casino is fully licensed and regulated by reputable gaming authorities, including Gibraltar (GLA) and the United Kingdom Gambling Commission (UKGC). These licenses ensure Grosvenor's players enjoy a fair and secure gaming experience.
Grosvenor is owned and operated by Rank Interactive (Gibraltar) Ltd, a company incorporated in Gibraltar, a well-respected name in the online gambling industry Rank Interactive has an impressive portfolio of successful online casinos and a reputation for providing a safe and secure gaming environment.
Grosvenor's commitment to providing its players with an enjoyable and secure gaming experience has earned it a loyal following of online casino enthusiasts. The casino's games, ranging from classic slots to live dealer tables, ensure something for every type of player. Moreover, its generous bonuses and promotions keep players coming back for more.
Also, check out our complete list of reputable online casinos here.
Grosvenor Casino Welcome Bonus And Promotions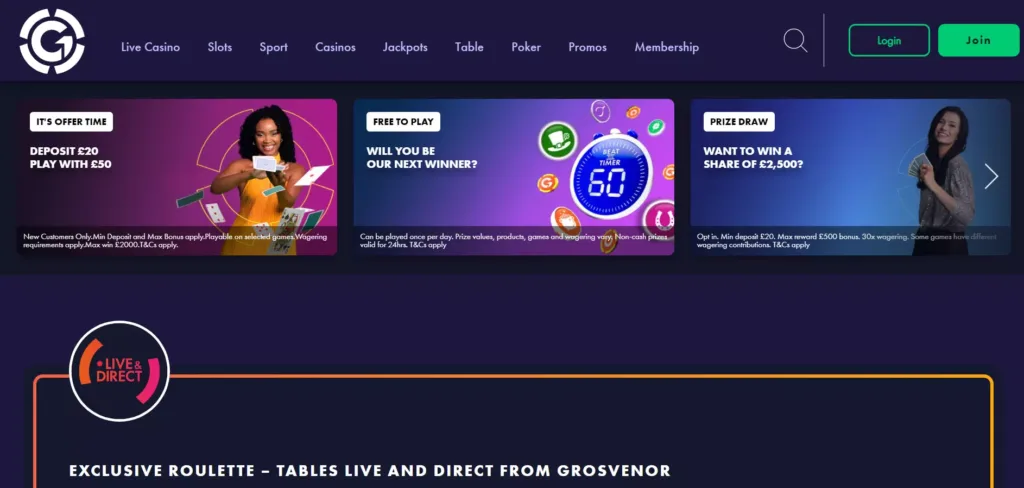 Grosvenor Casino offers an impressive welcome bonus to new players. Upon signing up and making a minimum deposit of £20, you can claim a bonus of up to £30. This online caino also offers numerous promotions and rewards for existing players.
Match the pairs
You must match the pairs in 60 seconds to beat the Timer to win a guaranteed prize. You'll get to play against the clock daily, so be sure to come back every day for another chance at winning.
Grosvenor's Goal
To participate in this free contest offered by Grosvenor Sport, select a player from each of the 10 Game Week matches and submit your choices up to 5 minutes before the first game begins. If all 10 of your players score first, you could win £10,000! Alternatively, if you are the top entrant for the week and have six or more of your selected players score first, you could win the weekly £100 rollover prize.
Grosvenor Scratch & Win
A new daily free-to-play game called "Grosvenor Scratch & Win" has been introduced, in which a prize can be won by matching 3 icons daily. Boost tokens, exclusive enhancements, free bets, and more are being given away as prizes daily.
Grosvenor Sport Club
Grosvenor Sports Club offers an opportunity to earn a weekly free bet simply by placing the bets you love. A free £5 bet will be given each week, regardless of the sport or the outcome of your bets, after staking £25+ in the previous week.
Restrictions On Grosvenor Casino's Welcome Bonus
The restrictions on the welcome bonus offered by Grosvenor Casino may vary. Players must review the terms and conditions of the welcome bonus carefully before claiming it to ensure they comprehend all the applicable limitations.
The following points should be noted regarding the offer:
Any other welcome offer will no longer be eligible if this offer is claimed.
The minimum eligible deposit is £20.
A non-withdrawable bonus of £30 will be credited with five times (5x) wager requirements.
Only the maximum deposit of £20 will be considered for wagering purposes to receive the full bonus. If a deposit of more than £20 is made, the remaining amount will be ring-fenced from wagering requirements.
The Deposit + Bonus amount must be wagered five (5x) times before any winnings can be withdrawn.
Wagering contributions will differ depending on the game played.
Slots contribute 100% towards wagering requirements.
All Live Casino games contribute 10% towards wagering requirements.
Jackpot and Progressive games contribute 50% towards wagering requirements.
Payment Methods At Grosvenor Casino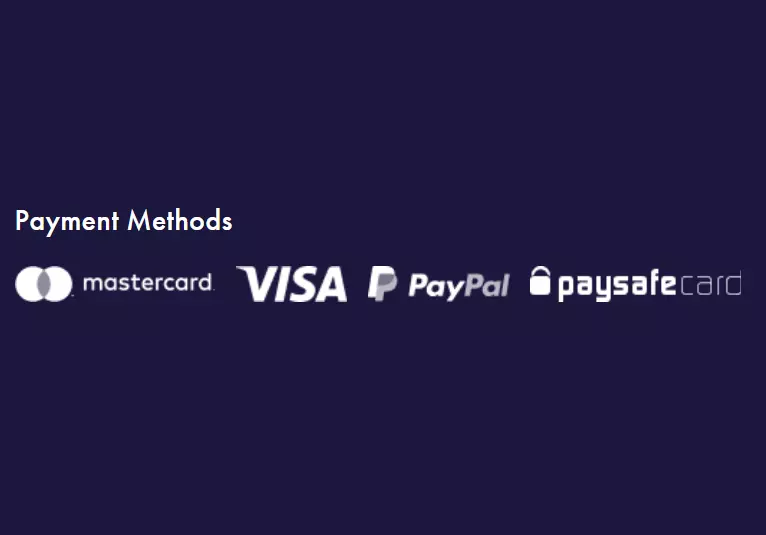 Grosvenor Casino provide players with various payment methods to make deposits easily. Players can choose from various options, such as credit/debit cards, e-wallets, and bank transfers. Some of the popular payment options available at Grosvenor Casino include:
Debit Cards: Visa and Mastercard
e-Wallets: such as Neteller, Skrill, Trustly, and PayPal.
Prepaid Cards: including Paysafecard, Astropay, Klarna and Interac.
Bank Transfers: This option is usually slower than the others, but it is also reliable for players who prefer to use their credit/debit cards or e-wallets sparingly.
All transactions at Grosvenor Casino are processed securely and encrypted to protect players' personal and financial information. It's important to note that deposit and withdrawal methods may vary based on a player's location, so it is best to check the available options in your region before making a deposit.
Grosvenor Casino Withdrawal Speed and Limits
At Grosvenor Casino, players have multiple options for withdrawing their winnings. The casino aims to process withdrawal requests as quickly as possible and typically completes them within 24 hours.
However, the exact withdrawal time depends on the chosen payment method. Generally, popular options like e-wallets have faster processing times, while bank transfers may take a few business days to complete.
Grosvenor Casino have no withdrawal limits for GBP currency, but withdrawal limits may vary for other currencies. Players who must withdraw more than the monthly limit can contact customer support for assistance.
To withdraw at Grosvenor Casino, players must provide certain information to ensure a secure and compliant transaction. This information may include the following:
Proof of Identity
Proof of Address
Payment Method Information
Account Verification
By providing this information, players can ensure a smooth and secure withdrawal process at Grosvenor Casino.
Responsible Gaming At Grosvenor Casino

Grosvenor Casino places a high priority on player safety and responsible gaming. The casino has implemented various measures to ensure its players gamble responsibly and safely. Some of these measures include:
Age verification
Grosvenor Casino ensures that all players are at least 18 years old, which is the legal gambling age in most countries.
Self-exclusion
If players feel that their gambling habits have become problematic, they can exclude themselves from Grosvenor Casino for a specified period. This prevents the player from accessing their account during the exclusion period.
Deposit limits
To control their spending, players can set daily, weekly, or monthly deposit limits. This helps prevent players from overspending and ensures they only gamble what they can afford to lose.
Gambling history
Grosvenor Casino provides players access to their gaming history, allowing them to track their activity and monitor their spending. This information can be used to identify patterns and make informed gaming decisions.
Links to external organizations
The casino provides information on responsible gambling and contact information for organizations such as Gamstop, Quitgamble, and Gamcare that can help players struggling with gambling addiction.
Grosvenor Casino Review Of Account Rules
Grosvenor Casino has established account guidelines to ensure a fair and secure gaming experience for its players. These guidelines include the following:
Age verification
To ensure that players are of legal gambling age, Grosvenor Casino requires players to provide proof of age and identity when opening an account.
Accuracy of information
Players are required to provide accurate and complete information when registering for an account. Grosvenor Casino reserves the right to verify the information provided and close any accounts that contain false or misleading information.
One account per player
Grosvenor Casino only allows one account per player to prevent fraudulent behavior and ensure fair play. Players found to have multiple accounts will have their accounts closed and their winnings voided.
Fair play
Grosvenor Casino is committed to fair play and has implemented measures to prevent fraud and cheating. Players who are found to be engaging in fraudulent or cheating behavior will have their accounts closed and their winnings voided.
By adhering to these guidelines, players can enjoy a safe and fair gaming experience at Grosvenor Casino with the assurance that their winnings are protected.
Customer Support And Speed of Feedback At Grosvenor Casino
At Grosvenor Casino, customer satisfaction is of utmost importance. The casino understands that players may have queries or concerns while gaming and has established a comprehensive support system to ensure that players receive the assistance they need promptly and efficiently.
Available channels
Grosvenor Casino provides several channels for players to contact customer support, including email and live chat. Unfortunately, phone support is not currently available. Players can choose the medium that best fits their needs and receive prompt and helpful responses from the support team.
The expertise of the support team
The support team at Grosvenor Casino is highly trained and knowledgeable about all aspects of the casino, from games to promotions to technical issues. Players can be confident they will receive accurate and helpful responses to their inquiries.
Speed of feedback
Grosvenor Casino is dedicated to providing quick and practical support to players. The support team is available 24/7 and responds to inquiries promptly, ensuring that players receive the assistance they need promptly.
Grosvenor Casino Review User's Feedback
Stephen Lord
"I had an amazing experience at Grosvenor Casino. I also appreciated the various responsible gambling measures, which made me feel safe and in control of my gambling."
Susan Mack
"I've been a loyal player at Grosvenor Casino for a while now, and I have to say, I'm disappointed in the recent changes to their loyalty program. It's become much harder to earn points and redeem them for rewards."
Dean Marler
"I recently won a large sum of money at Grosvenor Casino and was impressed by how quickly they processed my withdrawal request. The funds were in my account within a few days, much faster than expected."
Michael McBride
"I had a great time playing at Grosvenor Casino. The layout felt cluttered, and the search function could be improved to make it easier to find specific games."
Grosvenor Casino Review Of Pros & Cons
Pros
Extensive selection of games
Lucrative sign-up bonus
Well-designed loyalty scheme
Responsive and knowledgeable customer service team
Cons
Limitations on the sign-up bonus
Restricted account registration and payment methods for specific countries
No phone support is available
Grosvenor Casino Review Of Game Selection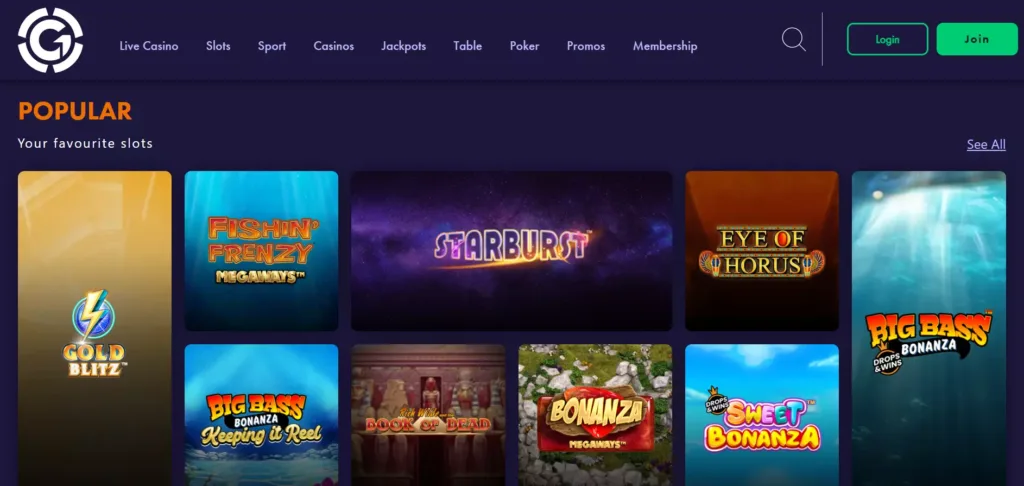 Grosvenor Casino is designed to provide customers with an immersive and exciting gaming experience, featuring games such as roulette, blackjack, baccarat, poker, and more. In addition to traditional table games, customers can enjoy various slot games, video slots, and live dealer games.
Some of the most popular games available at Grosvenor Casino include Mega Moolah, Gonzo's Quest, Starburst, and Thunderstruck II. These games are known for their high-quality graphics, thrilling gameplay, and rewarding payouts.
The casino has collaborated with some of the leading game providers in the industry to offer its players a variety of high-quality games. Some game providers at Grosvenor Casino include Microgaming, NetEnt, Evolution Gaming, and Play'n GO, among others.
How to Play At Grosvenor Casino
Playing games at Grosvenor Casino is easy. Here are the steps you can follow to start playing:
Sign Up
The first step is to create an account at Grosvenor Casino. You can do this by clicking the "Sign Up" button on the casino's website and filling in the required information.
Make a deposit
To play games at Grosvenor Casino, you must deposit into your account.
Choose a game
Once you have deposited, you can start playing games. To do this, click the "Games" tab on the casino's website and browse the available games. You can filter the games by the game provider, type, and more to find your desired game.
Start playing
Once you have chosen a game, click on it. You can start playing for free in demo mode or for real money by making a bet.
Play and win
Play the game according to its rules and try to win as much as possible. You might even hit the jackpot and walk away with a big win.
Before you start playing games at Grosvenor Casino, it's essential to familiarize yourself with the rules and regulations of the casino and the games you want to play. Knowing the rules will help you make informed decisions and play responsibly.
Strategies for Winning At Grosvenor Casino
To increase your chances of winning, it is vital to implement the following strategies when playing at Grosvenor Casino:
Bankroll management: Before you start playing, set a budget and stick to it. Decide how much you will spend, and stay within that amount.
Know the rules: Make sure you understand the rules of each game before you start playing. Read the paytable and game rules to familiarize yourself with the game.
Take advantage of bonuses and promotions: Take advantage of these promotions to boost your bankroll.
Practice: Try playing the games for free in demo mode before you start playing for real money. This will help you understand the game and develop your skills.
Manage your emotions: Don't let emotions drive your decisions. Stay focused and calm, and make decisions based on logic rather than emotions.
By following these strategies, you can increase your chances of winning at Grosvenor Casino. However, it is essential to remember that gambling is a game of chance, and no strategy can guarantee a win.
Conclusion Of Grosvenor Casino Review
Grosvenor Casino is more than just a place to try your luck and potentially win big. It's an experience that combines excitement, entertainment, and hospitality. So, gather your friends, dress to impress, and head to Grosvenor Casino for a night you will remember.
Who knows, you'll even hit the jackpot and become the talk of the town. Good luck, and remember to gamble responsibly. In the comment section below, write your thoughts about this Grosvenor casino review.